PA legislators, college students and union leaders rallied in the Capitol Rotunda on Wednesday urging lawmakers to approve a plan that would provide free college education for thousands of students.
PA Promise would create a grant program to cover up to four years of tuition at a state owned or state related university or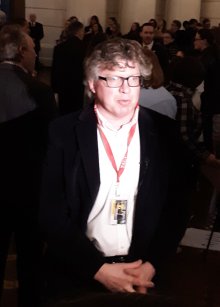 community college for families who make $110,000 annually or less and it would cover tuition, room and board for students whose families make $48,000 or less.
Sen. Vincent Hughes, D-Philadelphia, is sponsoring the bill, and was joined by colleagues in the House and the Senate as well as college students and union leaders, including Steve Newman, who is president of the Temple Association of University Professionals, AFT Local 4531.
In his remarks to the boisterous crowd, Newman said PA Promise would keep students from hunger, homelessness and dropping out short of earning their degrees – something he has witnessed firsthand on Temple University's campus.
"By ensuring that Pennsylvanians can afford access to our community colleges, our state system of higher education, and our state-related universities, as well as job training and credentials for those who need them, Pennsylvania Promise would fundamentally alter the landscape of the commonwealth," Newman said.
"Some may call it radical; let them. In pursuing justice, we must not be afraid of what others call radical.  And, really, how radical is it to imagine that another generation of students does not have to mortgage its future to pursue the education they need to in so many cases to have the future they want as innovators, as laborers, as citizens?" he added.
Pennsylvania ranks 48 nationally for state share of funding higher education. As a result, PA also has the second most expensive public colleges and universities and the highest student debt in the nation. According to Sen. Judy Schwank, D-Berks, PA's higher education funding is the same today as it was 10 years ago.
National Center for Education Statistics data shows that Pennsylvania's average in-state tuition at a public university is nearly double the national average at $12,186 – a direct reflection of years of cuts or flat funding by the state that has to be made up by charging students higher tuition. Some state, including California, Washington and Texas charge out-of-state-students less tuition than PA charges in-state students.
"I'm proud to say that among our most active members is Sara Goldrick-Rab the founder of the HOPE Center and whose trailblazing work on college affordability is well known to many of you," Newman said.  "She also has established a FAST Fund at Temple and many other places, allowing us to give students enough to pay for car repairs or a month's rent or groceries so they do not drop out of school.  Their stories are heartbreaking:  one student recently applied for help because his parents cut him off after he came out; another because his mother could not provide help that month since she was furloughed during the Trump shutdown. As our national union AFT does, TAUP is also running student debt clinics for current students, alumni, faculty and staff.  These do good for individuals; more importantly, they call attention to the deeper structural problems—and addressing those is where the Pennsylvania Promise comes in."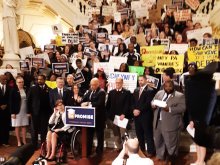 "We want to let the whole state know that there's nothing wrong with free college," Hughes, the ranking Democrat on the Senate Appropriations Committee, said "'Why not? Free college.'"
State Rep. Jordan Harris, D-Philadelphia, said "it is our moral responsibility as a commonwealth, to ensure that when a young person puts in the work that we help them meet each and every one of their dreams by making colleges affordable and free in this commonwealth."
While legislators on both sides of the aisle agree that improving higher education and making it more affordable is a key priority, Mike Straub, Majority Leader Bryan Cutler's (R-Lancaster) spokesperson, stated that a plan like PA Promise will be hard for a lot of members to support without a reliable funding mechanism.
"It's too much of a debt burden to ask tax payers right now," Straub told a reporter for the Pennsylvania Legislative Serviced after the rally. He made no mention of the already onerous "burden" on college students and their families.