PHILADELPHIA – Faculty and Staff at Community College of Philadelphia have ratified three contracts overwhelmingly. The deal follows a contentious three-year fight, pitting an administration seeking to implement higher workloads on faculty and higher health care costs for all employees. Faculty and staff said they were fighting to protect educational quality at the College, and for fair wages for all, especially their most vulnerable employees.
"This attack on our union was part of a larger strategy to impose a for-profit framework on our college, a school with a proud history of providing high quality, accessible education to all Philadelphians," said Alexine Fleck, Professor of English.

Faculty and staff were prepared to strike in large part to protect their students and the education they receive at the College, where the majority of the students are first-generation college students, and many are immigrants, single parents, working adults, as well as recent high school graduates.

Late last week a strike appeared to be imminent. Dr. Donald Generals said the college would hold firm on its final offer, claiming he would do no more than "tinker around the edges." But the administration agreed to a workload reduction for new faculty, removed healthcare takebacks and increased wages for classified employees, who had worked without raises for more than two years. 

Junior Brainard, Co-President of the Union, explained how a strike was averted: "When we organized and pushed back, we compelled Dr. Generals and the Board of Trustees back to the negotiating table and began to chip away at their agenda."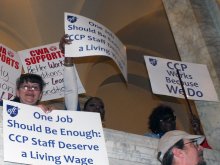 The contract dispute was just the last in a series of battles being fought by teachers and staff across the country. They are pushing back on decades of corporate reform and disinvestment in public education. That fight is now gaining traction at community colleges.
Marissa Johnson-Valenzuela, Professor of English, explained: "As our country goes, so goes the community college. Our fight is part of a larger fight against the intentional dismissal of poor and working class students."
Jamie Zigarelli, Professor of English, agreed. "Decades of funding cuts at public colleges, which educate the vast majority of Americans, have brought us to the brink. In Pennsylvania, the starving of public colleges has left us 47th in higher education funding and dead last in student debt."
But the Union also said there was plenty of work left to be done.
"We didn't win on class size. I'm still teaching 36 students per class," said Yusefa Smith, full-time faculty member in Foundational Math. "At Montco and Bucks, it's 27-28 students per class. But we did win some workload reductions, which is a victory for our students. But we will keep fighting on class size."
First-year student Lumen Lugo-Roman said that she stood with her professors. "Regardless of the possible personal inconvenience, I understood the importance of investing in educators. Educators, when supported, can change a student's outlook and life."