AFT Healthcare represents more than 70,000 members in 100 locals in 18 states and territories. The division has a very diverse membership, with members in more than 6,000 job titles working in the public and private sector in hospitals, clinics, home health agencies and schools throughout the United States. Many members are registered nurses, but the union also represents LPNs, technicians, technologists, therapists, aides, clerical personnel, service and maintenance workers, pharmacists and doctors.
The divisions' primary job is three-fold: First, to assist affiliates in winning higher wages, better benefits and improved working conditions; second, to protect and enhance the professional standards of healthcare workers and third, to advocate for policies that improve the quality of healthcare in our communities. Often, this involves assisting our affiliates in negotiating contracts as well as providing expertise and research support in enforcing those contracts. AFT Healthcare also strives to improve the practice and delivery of healthcare through lobbying and the passage of legislation at both the state and federal level and testimony and support for regulatory rule-making.
AFT Healthcare believes that organizing is the lifeblood of the union. We are one of the fastest-growing healthcare unions in the nation, having organized more than 8,800 new members since 1998. We win more than 70 percent of our elections, and have a 100 percent success rate in achieving a first contract. AFT Healthcare draws on the resources, expertise and funds of the entire AFT, which is key to our success.
A Program and Policy Council (PPC), which meets periodically throughout the year, determines the direction of the division in accordance with the goals of the national AFT. The PPC, which is a constitutional body of the AFT, provides policy guidance to the AFT Executive Council. The PPC has several subcommittees, which address specialized topics such as quality of care, school nursing, home health and organizing.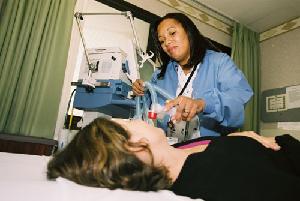 Every year, AFT Healthcare hosts a national professional issues conference where members learn about and discuss issues which affect healthcare workers throughout the country. Speakers and workshops address issues such as nurse-to-patient staffing levels, hospital restructuring, managed care, worker health and safety, delegation, community outreach and for-profit/non-profit conversions. AFT Healthcare is one of two unions affiliated with the AFL-CIO which is accredited as a provider of continuing education in nursing through the American Nurses Credentialing Center's Commission on Accreditation.