On Wednesday, November 25, 2015, faculty at Temple University had a lot to be thankful for. An overwhelming 70% of adjunct faculty voted to join TAUP!

This was a hard-won victory for adjunct educators, as Temple's administration ran an aggressive anti-union campaign—delaying the vote, spreading misinformation about the union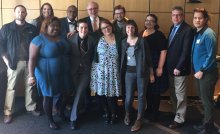 and urging adjunct faculty to vote "no." Despite these anti-union efforts, more than 1,400 adjuncts will join the 1,400 full-time faculty, librarians and academic professionals TAUP already represents at Temple.
 
[A photo of adjuncts, AFT organizers, and TAUP President Hochner taken after the votes were tallied.]

"This win at Temple University is a victory for teachers who value quality education and believe in fairness in the workplace," says Ryan Eckes, who has been an adjunct professor of English at Temple University for the past 10 years and is a member of United Academics of Philadelphia, which served as TAUP's organizing committee for the campaign. "My colleagues and I are proud of this important step toward achieving job stability in higher education and restoring my alma mater toward its mission of delivering education for all in Philadelphia."

Art Hochner, President of TAUP, says, "This is a great step for all faculty at Temple. With all faculty belonging to TAUP, we will be able to have a unified voice and achieve the professional respect they all deserve. This will benefit the students and the entire Temple community. The win for adjunct faculty at Temple is a great first step for the 15,000 adjunct faculty in Philadelphia organizing with AFT through UAP."

We hope that the statement sent out on Wednesday by Provost Dai indicates that there will be no further challenges and delays by the administration.  We look forward to sitting down with the administration to negotiate for adjuncts. All faculty will soon have voice, job security, and fair wages.

There are a lot of changes for TAUP at Temple. Upon official certification, we will begin to bargain. Adjuncts should look for a bargaining survey.  We'll also hold college and departmental meetings about upcoming constitutional changes.