The Pennsylvania AFL-CIO endorsed statewide judicial candidates for the Tuesday, May 19,  Primary Election. The state labor federation is the largest labor organization in Pennsylvania representing over 800,000 union workers.
more
"Schools must ensure that all children are well prepared for life, college or a career and ready to contribute to their communities," AFTPA President Ted Kirsch testified before the PA House Democratic Policy Committee. "Lamakers must value more than academic standards and test scores."
more
more
AFTPA Members & Retirees: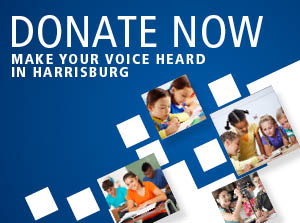 "During his campaign, Governor Wolf promised to reinvest in our schools, to rebuild the middle class and to make Pennsylvania's tax system fairer. The governor's first budget delivers on all counts," AFTPA President Ted Kirsch said following the governor's first budget address. Read Ted's full statement here.
more
URGENT ACTION IS NEEDED to stop a paycheck protection bill being pushed through the Pennsylvania Senate. Click here to take action or click Read More.
more
Pages