The Pennsylvania Senate is about to vote on a package of bills that would hijack the collective bargaining process by opening it to intense public scrutiny. Sen. Vincent Hughes called out lawmakers: "This is union busting...let's be transparent about it!" Email your Senator now.
more
Teachers and support staff at Olney Charter High School in Philadelphia voted overwhelmingly to form a union under AFT Pennsylvania to gain a voice in how classrooms are resourced and school decisions are made.
more
Here's what can happen at a K-3 school when teachers and support professionals come together and use a little inspiration, perspiration and willingness to let everybody promote healthy snacks.
more
"Schools must ensure that all children are well prepared for life, college or a career and ready to contribute to their communities," AFTPA President Ted Kirsch testified before the PA House Democratic Policy Committee. "Lamakers must value more than academic standards and test scores."
more
more
AFTPA Members & Retirees: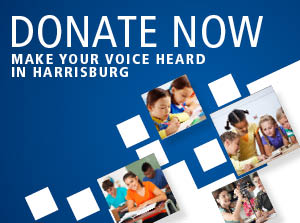 Pages