AFT Pennsylvania has announced its recommendations in the Nov. 8 General Election. The recommendations were approved by the Executive Council.
The Neshaminy Federation of Teachers and the School Board have voted to accept a fact finder's recommendations, moving the district a step closer to a new contract.
In her latest column appearing in the New York Times, AFT President Randi Weingarten writes about Donald Trump's education policies amd how they would devastate our public education system.
The Philadelphia Council AFL-CIO will host a year-long series of labor education workshops designed to better equip labor activists and leaders to meet the challenges facing today's labor movement. Now in its second year, the Philadelphia Labor Activist Training will be co-sponsored by the Labor School at Penn State.
DONATE! For great schools, worker rights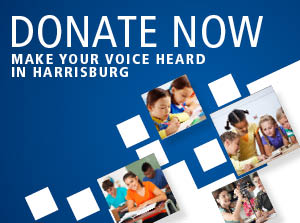 AFT President Randi Weingarten on July 18 delivered a forceful case for Hillary Clinton, while hailing the 100-year-old union as a vehicle empowering our more than 1.6 million workers at the bargaining table and the ballot box.