Adjunct faculty at Community College of Allegheny County voted 394-64 to join the AFT. 
more
AFT Pennsylvania convention delegates passed a resolution urging American colleges and universities to end their exploitation of adjunct, or contingent, faculty.
more
AFT Pennsylvania Convention delegates called on the state legislature to repeal the state's teacher evaluation law, which teachers maintain has been implemented inconsistently, produces unreliable rankings, promotes teaching test-taking instead of critical thinking and punishes teachers whose students have special needs.
more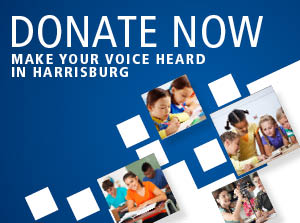 AFT is launching a campaign this summer to protect the rights of working men and women, following a U.S. Supreme Court decision to consider a ruling that would, in effect, create a national right-to-work law. 
more
"During his campaign, Governor Wolf promised to reinvest in our schools, to rebuild the middle class and to make Pennsylvania's tax system fairer. The governor's first budget delivers on all counts," AFTPA President Ted Kirsch said following the governor's first budget address. Read Ted's full statement here.
more
Pages