"Moving crews" in jumpsuits and dozens of protesters in Philadelphia and Pittsburgh greeting Gov. Corbett with chants of "One Term Tom" has the unpopular governor toured the state on a re-election campaign kickoff tour. As a U-Haul moving truck circled the blocks bearing a sign that read "Send Corbett Packing" education advocates exposed the devastating impact Corbett's billion-dollar-budget-cuts have had on schools across the state.
more
Can we get 6,000 AFT Pennsylvania members to register at FirstBook/AFT in time to get 100,000+ free books into the hands of underprivileged children this holiday season? Not without your help! Click here to help us reach our goal!
more
The Senate is taking up a far-reaching charter reform bill that includes provisions that would undermine the financial stability of our school districts. Contact your PA senator NOW. Make your views known on charter law reform.
more
AFTPA Members & Retirees: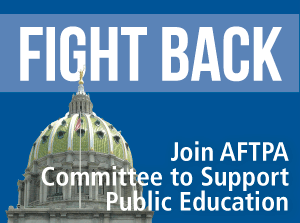 Nurses and technicians at Lawrence + Memorial Hospital in New London, Conn., came prepared to return to work on Nov. 30, as their four-day strike came to an end. However, they were met with locked doors and threats of arrest if found on hospital property.
more
The AFT and The Weinstein Company brought the story of Nelson Mandela's life and his message of social justice, reconciliation and leadership to Los Angeles public high school students with a screening of the film "Mandela: Long Walk to Freedom."
more
Pages