We know the transformative power of a great education. And we know the power of our votes. On Nov. 4th, we have a chance to use the power of our vote to ensure every child in Pennsylvania gets a great education at a fully funded public school, college and university. Click MORE to find out how you can help!
more
AFT Pennsylvania President Ted Kirsch offered condolences to the students, staff and parents at Delaware Valley Charter High School, where a student was killed after school off campus on Monday. Read his statement here...
more
"Every election is determined by the people who show up," said Larry Sabato, political analyst. Make sure you're ready and able to vote on Tuesday, November 4, when Pennsylvanians elect a governor, state representatives and senators and Congressional representatives. Register to Vote NOW.
One day after the Primary Election, AFT Pennsylvania endorsed Tom Wolf for Governor. The vote by AFT Pennsylvania's Executive Council was unanimous. AFT Pennsylvania members coalesced around Wolf, a York native, a businessman and former Secretary of Revenue under Gov. Ed Rendell. 
more
AFTPA Members & Retirees: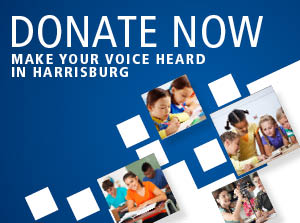 Jack M. Barrack Hebrew Academy Faculty Association today approved a new, five-year contract with the private Jewish day school, providing for raises totaling 10 percent over the life of the contract.
more
Pages