more
The Federation of Pottstown Teachers today launched a new program at Back to School Night that will put new, high-quality books into the hands of every student in the district. FPT, the union representing 250 teachers in Pottstown public schools, has partnered with the First Book organization to provide 16,000 high-quality books that students can take home and keep. 
more
AFTPA's President Ted Kirsch urges GOP House leaders to stop playing games with children's futures by attempting a line-item override of the Governor's #PaBudget veto. Read Kirsch's full statement. 
more
Adjunct faculty at Community College of Allegheny County voted 394-64 to join the AFT. 
more
AFT Pennsylvania convention delegates passed a resolution urging American colleges and universities to end their exploitation of adjunct, or contingent, faculty.
more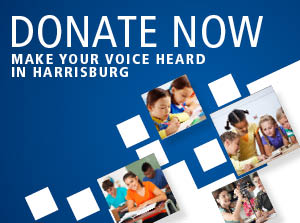 Pages