AFT members - active and retired - are encouraged to volunteer after school and on weekends during the fall election cycle for union phone banks, labor walks and literature distributions. Click here to sign up to volunteer or keep reading to find out how you can get involved...
more
"Every election is determined by the people who show up," said Larry Sabato, political analyst. Make sure you're ready and able to vote on Tuesday, November 4, when Pennsylvanians elect a governor, state representatives and senators and Congressional representatives. Register to Vote NOW.
One day after the Primary Election, AFT Pennsylvania endorsed Tom Wolf for Governor. The vote by AFT Pennsylvania's Executive Council was unanimous. AFT Pennsylvania members coalesced around Wolf, a York native, a businessman and former Secretary of Revenue under Gov. Ed Rendell. 
more
At the AFT national convention in Los Angeles in July, teachers from AFT-organized charter schools had a simple message: Don't call us "charter teachers." English teacher Antoinette Davis spoke about her experience in a Philadelphia charter school to thousands of AFT delegates on the convention floor.  "We are all educators," she said.  "I want my AFT brothers and sisters to see me as a public school teacher at a charter."  
more
Jack M. Barrack Hebrew Academy Faculty Association today approved a new, five-year contract with the private Jewish day school, providing for raises totaling 10 percent over the life of the contract.
more
AFTPA Members & Retirees: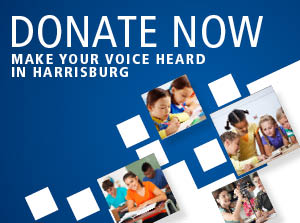 Pages