McMurray, PA (October 28, 2015) – Peters Township Federation members began walking picket lines outside the District's five schools after 10 months of fruitless negotiations. 
The state Senate passed SB 501 by a 26-23 vote, outlawing payroll deduction of union dues and voluntary political contributions by union members. AFTPA President Ted Kirsch said the bill was anti-union and silences working Pennsylvanians. Read his statement here:  
Scranton Federation of Teachers, AFT Local 1147, reached a tentative agreement Monday night (Oct. 12) ending an 11-day strike.
UPDATED! After winning at the Pennsylvania Labor Relations Board, Temple University adjuncts will vote Nov. 9 through Nov. 24 on whether to join the Temple Association of University Professionals, AFT Local 4531.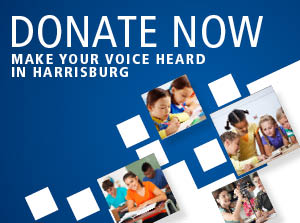 The Pennsylvania Department of Education is instituting a one-year waiver on the use of School Performance Profile scores for schools using only PSSA data, Gov. Wolf announced Sept. 8.