Scranton Federation of Teachers reached a tentative agreement with the Scranton School District on a new contract, ending an 11-day strike by teachers and paraprofessionals. If SFT members approve the agreement, schools reopen on Wednesday.
"I have one of the strongest unions in the state, if not the country," SFT President Rosemary Boland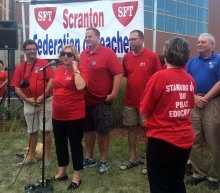 told the Scranton Times-Tribune Monday night. "I am as proud of this union as anyone could be."
According to the newspaper, the two-year contract includes step movement, a 1 percent raise in the second year and increases in employee health insurance deductibles. Raises are retroactive but will now show up in members' paychecks until January to give legislators time to pass a budget.  
The district removed several proposals to which the SFT objected from negotiations. The district had proposed longer days, more periods teaching and more professional development time -- all of it unpaid.
During the strike, the SFT's 940 teachers and paraprofessionals showed incredible solidarity. When a local food bank was swamped with food requests by families who depend on school breakfasts and lunches, the SFT and AFT organized national fundraising and local food drives to help families.
More than 80 percent of the district's 10,000 students are eligible for free or reduced-price breakfast and lunch at school. 
The AFT/AFTPA fundraising drive raised more than $8,000 and teachers and community members brought truckloads of food to St. Francis of Assisi Soup Kitchen. 
"As we work to obtain a fair contract that's good for educators and students, we also have to do everything possible to ensure the health and safety of our students," Boland said. 
The SFT went on strike Sept. 25. The previous contract expired on Aug. 31.