Here's what can happen at a K-3 school when teachers and support professionals come together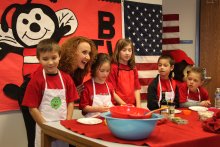 and use a little inspiration, perspiration and willingness to let everybody promote healthy snacks.
Specifically, what can happen is "Snack Scene at 3:15," a weekly series on Bee TV at Bower Hill Elementary School near Pittsburgh, where students watch videos on how to make "no cook, no knives" snacks. They learn how good food can be fun to play with, taste good and lead to a healthy future. Beyond kids' enthusiasm, Snack Scene has caught on with parents and the community.
Students showing off healthy eating materialsAt the school of nearly 800 students in Peters Township, second-grade teacher and AFT member Meghan Myers leads a wellness committee. Using the district's wellness policy (link is external) as its springboard, the committee first found success in a marathon called "Kids of Steel (link is external)," which asks young people across 10 counties to commit to walking 25 miles, then converging on Pittsburgh to run the final mile together. As they learned the ways of a marathoner, students learned about healthy eating. Their interest and PTA support led the school wellness committee to think about how it could expand.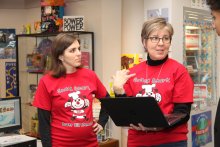 Myers then won a Just Move grant from the Active Schools Acceleration Project (link is external) to bring exercise and fitness education to classrooms. Speech pathologist Tammi Hanak, also an AFT member, created a deck of "exercise cards," each depicting a Bower Hill educator modeling a fitness move. Hanak led assemblies teaching the moves to students. Seeing her energy and impact, Myers asked Hanak to join her as co-chair of the wellness committee. Their first foray was to a conference on childhood obesity, which opened their eyes to a whole-school strategy for nutrition awareness: a kids' cooking show.
Hanak already anchored the news segment of the school's internal TV show. Now she would play host for Snack Scene, while Myers took on logistics. School counselor Fred Traumuller, passionate about technology, stepped behind the camera. With administrators' approval, videotaping kicked off in November 2013, timed to coincide with Kids of Steel. The first 12 episodes focused on snacks students could make at home without knives or stoves.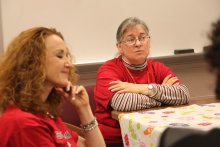 Teaching about healthy eatingThe show relies on a big team: paraprofessionals and teachers, as well as a school psychologist, a librarian and physical education educators. Principals and the superintendent round out the group. Snack Scene also draws in community partners, including grocery store and healthcare dietitians.
Photocopies of every recipe used in the first 12 shows went home with kids, and teachers helped Hanak connect weekly episodes to the curriculum. For example, during dental health month, an episode starring a paraprofessional who once worked as a dental hygienist showed students how certain foods should be avoided during school hours because kids don't get a chance to brush their teeth.
Snack Scene took off. Students stopped Hanak in the hallways, begging to appear on the show.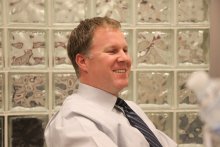 Parents noticed their kids getting more vocal about trying new recipes.
Riding that first wave of success, Myers suggested that Snack Scene host a "Top Chef"-style competition. More than 100 students submitted recipes, and 16 kids were selected to compete in four grade-specific qualifiers, with their peers picking a winner for each grade via SurveyMonkey. Finally, the winners from each grade met in one last competition, crowning a champion based on snack appeal and nutrition.
The PTA developed a cookbook of all the recipes, plus the competition's 16 snacks, and sold it for just a dollar, the goal being for all families to have one. Proceeds helped the PTA offer Snack Scene a new apron and more kitchen gear.
Local newspapers wrote about the show, including The Almanac (link is external) and the Observer-Reporter (link is external). A former school principal with connections to a local cable TV channel brokered an agreement to air episodes all summer.
Dreaming bigger
Hanak spent the summer thinking about how the program could build on its success. In 2014-15,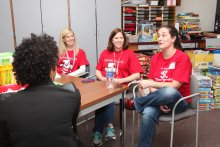 the team cranked up its activities, coordinating with educators to align the show's content with the curriculum; hosting several episodes on location, such as at a supermarket and apple orchard; featuring the local fire chief to discuss kitchen safety; and showcasing the school garden.
A girl and her appleIn a 10-question survey completed by several hundred families, parents overwhelmingly reported that Snack Scene has heightened their children's interest in healthy food. Further, they credit the program with changing the actual behavior of kids—and families. Most students ask parents to obtain featured foods so they can make the recipes they've seen.
One parent recounted that her daughter "now explains to us about the foods we are eating and their nutritional value. She does at least try more new foods and is excited when she makes a healthy choice." Another confided, "Mom has increased her own knowledge on nutrition." A PTA member wrote: "My kids were like, 'Wait till you see what I can do with this banana!'"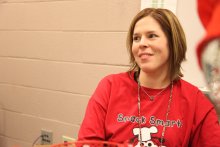 PTA leaders call promoting wellness a "mom problem," saying that sure, parents can serve healthy food, but it takes someone other than mothers—someone seen as friendly and "cool"—to persuade kids that good food can be yummy.
As the show's host, Hanak is the cool one. Kids gravitate toward her, and parents appreciate her reinforcement of hard-to-sell messages with fun activities and props, like chopsticks and cartoon characters. "Mrs. Hanak is a hero in my house," one parent declared. Students brag about their contributions to the show.
Lessons learned
Snack Scene has become a phenomenon that defines Bower Hill. An avatar of Hanak greets visitors in the front hallway, and this year, the PTA donated more than 800 T-shirts depicting school mascot Buzzer Bee in the act of cooking.
Hanak no longer scripts every episode, instead coaching kids and adults before each taping. Myers doesn't have to search for material, either. The 16 recipes from last year's competition will be featured, with each kid chef as one of four student guests.
Next, Snack Scene plans to design an after-school activity for the hundreds of kids who haven't appeared on the show. The team also is figuring out how to improve its use of social media to connect with families. They may pin images of kids' snacks on Pinterest, post recipes on Facebook or promote fitness on their YouTube channel.
[Story by Chelsea Prax, Anita Rijal, Annette Licitra/photos by John A. Wee]