PFT lawyer Ralph Teti argued, "There is not a statute authorizing the SRC to impose changes to the collective-bargaining agreement."
Last week, more than 3,000 protesters - teachers, school staff, parents, students, clergy and labor allies - blocked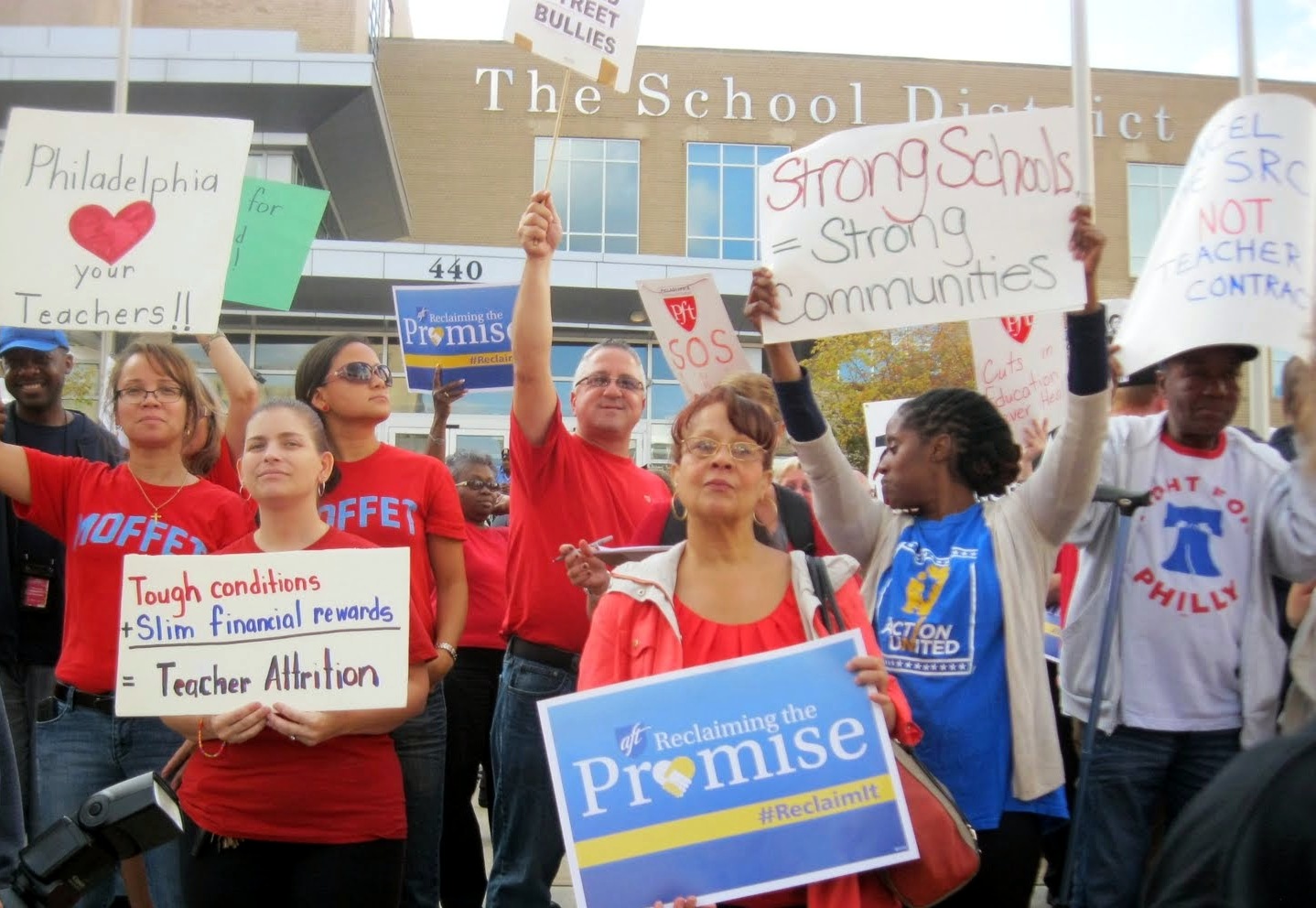 Broad Street during a massive rally outside School District headquarters.
PFT President Jerry Jordan said the ruling "reinforces our view that the School Reform Commission cannot simply decide to stop negotiating, then unilaterally cancel the PFT contract and impose new terms. The decision is a testament to the notion that these kinds of contract changes should be decided at the bargaining table." 
Jordan's statement continued: "The PFT as early as August 2013 had offered changes to members' healthcare benefits that would have saved the district millions of dollars but the SRC chose to walk away from negotiations. Today's decision, for the moment, means PFT members can keep their current healthcare coverage without having to participate in the district's open enrollment process.
"We know the school district will likely appeal today's ruling, and that this is just the beginning of the litigious path chosen by the SRC. We, however, are confident in the legal merits of our claims and we are committed to seeing this matter to its conclusion in the courts. Our preference, however, remains to settle things via face-to-face negotiations.
In the meantime, educators who have gone without pay raises or step increases will continue trying to make up for the lack of resources, programs and services for their students."
On October 6, Governor Corbett's hand-picked school reform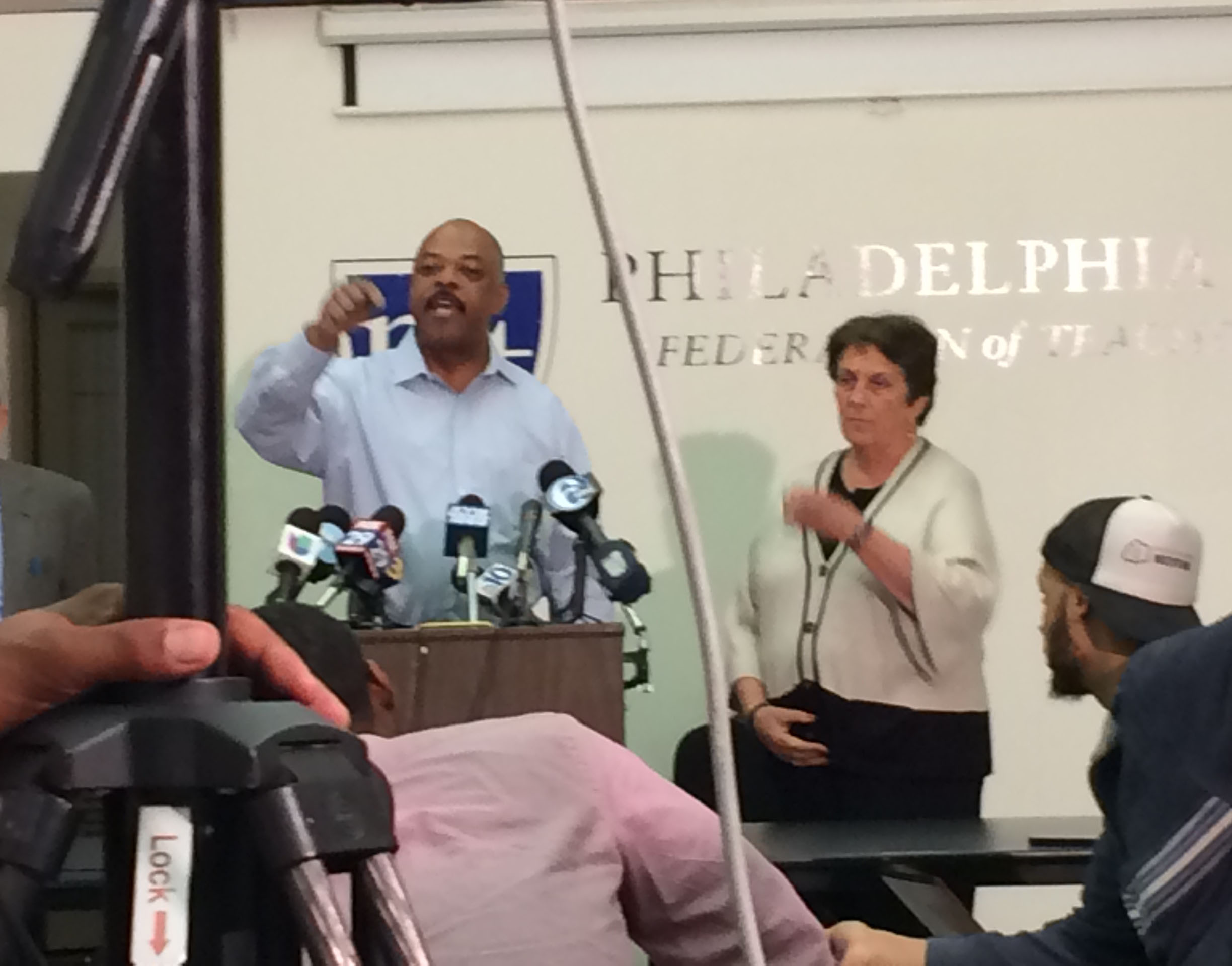 commission cancelled its contract with the 15,000-member Philadelphia Federation of Teachers and imposed new terms and conditions on teachers, school nurses, counselors, secretaries and other school support workers without warning.
At a meeting held at 9:30 a.m. on Monday, the SRC - three of whose members are the governor's appointees - voted with no public debate to disolve the contract under which teachers and other education support employees have worked since 2012.
The SRC's deciptive tactics are nothing more than a politically motivated attempt by Governor Corbett to shore up his sagging numbers in polls of likely voters. They called a meeting with minimal notice, failed to post the meeting on the school district's website and failed to call PFT President Jerry Jordan to notify him of their plans to file in Commonwealth Court to cancel the contract with the union after failing to negotiate with the teachers and staff since early July.
In a joint statement with AFT President Randi Weingarten, she and I said:
"Three weeks before the gubernatorial election, this surprise early morning SRC meeting,lawsuit and notification to employess imposing a contract and compensation cuts can only be characterized as Governor Corbetts well planned Hail Mary ambush. Governor Corbett's School Reform Commission have amped up a war on teachers and support staff who have been the glue holding Philadelphia's schools together. Clearly and recklessly, the SRC is trying to provoke a strike-since there have been no real negotiations since  SRC Chair Bill Green was appointed by the governor.  Green in fact has shown by his actions--spending more time and resources hiring lawyers and going to court- that they would rather attempt to impose a contract that than work with teachers to figure out what is best for Philadelphia's kids.
"Pennsylvanians will not be fooled: They know that Governor Corbett has robbed Philadelphia's schools of desperately needed funding. They know that teachers and support staff are doing everything they can to fill in the gaps. And they know we need new leadership that will reinstate a fair funding formula. Philadelphia's children deserve better."
(Download Randi's & Ted's statement here.)
PFT President Jerry Jordan said this afternoon:
"The announcement by the School Reform Commission that they were cancelling the PFT contract and imposing terms is every bit as outrageous as the manner in which they scheduled and held their public meeting. In August 2013, the PFT put contract proposals on the table that would have saved the district millions of dollars and averted the current budget deficit. Governor Corbett's SRC is clearly not interested in negotiating with the educators of Philadelphia. ...This is not an effort by the SRC to address the fiscal crisis. This is the Corbett Administration's attempt to vilify the PFT in order to distract from his horrible record on education funding and boost his chances of reelection."
Tom Wolf, Democratic candidate for governor said:
"This is just one more situation that has been forced by Gov. Corbett's $1 billion cut to education in Pennsylvania and his chronic neglect of the Philadelphia public schools and schools throughout Pennsylvania.... All stakeholders have to work together to ensure the best results for students in Philadelphia. Unilateral action undermines the collaboration that we need in order to develop a long term solution for schools in Philadelphia and throughout Pennsylvania. As governor, I will work to fund our schools by implementing a 5 percent severance tax, implementing charter school reform, and creating a fair funding formula that takes each district's unique needs into account."
As union members, we know that an attack on one union member is an attack on all of our rights as working Pennsylvanians. Please share this information with your co-workers. As the PFT considers its response to the SRC's latest attack, I ask all AFT Pennsylvania members to stand in solidarity with their union sisters and brothers in Philadelphia and to get personally involved in AFTPA's efforts to elect a new governor on November 4th.
We are in the process of planning solidarity actions to support PFT members, who are in their third year without a contract or raises. In the meantime, please use your social media to send messages of support to @PFTLocal3 and @AFTPA using the hashtag #phled on Twitter and post messages of support on your union's and PFT Local 3's Facebook pages.