POTTSTOWN, PA (August 25, 2015) — The Federation of Pottstown Teachers today launched a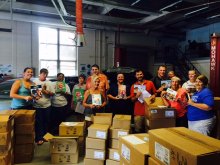 new program at Back to School Night that will put new, high-quality books into the hands of every student in the district. FPT, the union representing 250 teachers in Pottstown public schools, has partnered with the First Book organization to provide 16,000 high-quality books that students can take home and keep. 
"Federation teachers jumped at the chance to be part of this partnership, which will expand our students' access to books in their homes," said Federation President Beth Yoder, who teaches art at the high school. "Being able to have books—especially ones they can keep as their own—instills a love of reading that helps make children lifelong learners. After all, Readers are Leaders."
"Our students' success is very important to us," said Andrea Hunsberger, a teacher at Barth Elementary School. "Research shows that students who have books in their homes are more likely to read well and succeed in school. In fact, the lack of access to books is the single biggest barrier to literacy, and sadly, many Pottstown families just can't afford books."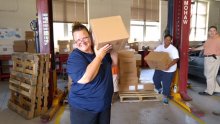 FPT Second Vice President Linda Vollmuth added, "One of the reasons First Book is such a good partner is that they work with top publishers to distribute top children's books in almost every subject area, from best-sellers to Newbery and Caldecott Award winners."
Teachers will begin giving books to families tonight at Pottstown Middle School Back-to-School Night tonight and continue distributing books to students and parents at back-to-school events through Sept. 2. 
"The books we were able to obtain are books that our students really want to read. We have been able to acquire more than $150,000 worth of books to distribute to our children. That's huge!" said teacher Mike DiDonato, FPT First Vice President.
"Pottstown teachers are committed to getting the tools and resources we need to help our students succeed. That is our union's mission, and this First Book partnership fits it perfectly," Yoder added. 
"Teachers will be stressing literacy throughout the fall, as we give new books away at school events, such as football games, the annual Pottstown Halloween Parade, to local libraries and to the children's ward of Pottstown Memorial Medical Center," Yoder added. "We plan to stress encouraging good reading habits at Parent-Teacher Conferences in November and will provide bookmarks with tips for boosting reading skills. It's going to be an all-out literacy effort for Pottstown students, parents and teachers this year."
After an application process to acquire the books, FPT members picked their shipment up in Pittsburgh in July. Teachers have volunteered their time over the summer to sort books to make sure children receive books that are appropriate to their ages and reading levels.